SCPL News & Announcements
---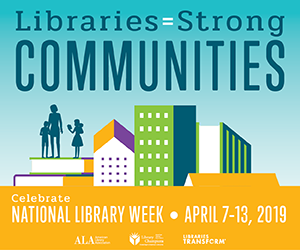 It's National Library Week
National Library Week is an annual celebration highlighting the valuable role libraries, librarians, and library workers play in transforming lives and strengthening our communities.
This year's theme, Libraries = Strong Communities, illustrates how today's libraries are at the heart of our cities, towns, schools and campuses, providing critical resources, programs and expertise. They also provide a public space where all community members, regardless of age, culture or income level, can come together to connect and learn.
Library programs are designed to encourage community members to meet and discuss civic issues, work together using new technologies like 3D printing or learn alongside one another in English language or technology classes. Library staff also partner with other civic and service organizations to actively engage the people they serve, always striving to make sure their community's needs are being met.
Join the celebration! National Library Week is an exciting opportunity for library supporters and libraries of all types to raise awareness of their value and impact in their communities. The #MyLibraryMyStory initiative is a video and social media campaign that aims to mobilize library advocates and get them creating and sharing digital content about their libraries, while engaging new stakeholders such as city leaders, nonprofits & community members. The goal is to create a space for advocates to flex their storytelling muscles and generate visibility for libraries!
ALA wants to highlight what you have to say, along with the incredible work you do, in a short video or photo during National Library Week 2019 and beyond. If you have 5 minutes to spare, tell us: How does your library help make your community stronger? Once you have your answer ready, post to Twitter, Instagram, and Facebook and say it loud and clear: #MyLibraryMyStory. Be sure to tag YOUR library @SantaCruzPL
More on National Library Week:
Monday, April 8: State of America's Libraries Report released, including Top Ten Frequently Challenged Books of 2018.
Tuesday, April 9:

National Library Workers Day

, a day for library staff, administrators, and Friends groups to recognize the valuable contributions made by all library workers. #nlwd19
Wednesday, April 10:

National Bookmobile Day

, a day to recognize the contributions of our nation's bookmobiles and the dedicated professionals who make high-quality bookmobile outreach possible in their communities. #BookmobileDay2019
Wednesday, April 10: Library Giving Day is a one-day fundraising event with the goal of encouraging people who depend on and enjoy public libraries to donate to their individual library system. #LibraryGivingDay
Thursday, April 11:

Take Action for Libraries Day

, a day to speak up for libraries and share your library story. #MyLibraryMyStory.
Saturday, April 13 is Citizen Science Day, coinciding with the final day of National Library Week. SciStarter has a free guide for how libraries and library workers can get involved.
View similarly tagged posts: Services, Fundraiser, SCPL Friends, Events
Posted by cowend on April 10, 2019 at 2:48 p.m.

Permalink: https://www.santacruzpl.org/news/permalink/843/