SCPL News & Announcements
---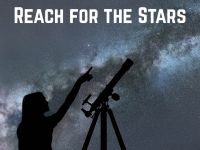 Explore the Final Frontier with the Santa Cruz Public Libraries
The Reach for the Stars series explores all facets of astronomy. Experienced astronomers, complete beginners, adults, and kids will find this series fun and informative. Topics will vary month-to-month.
Intro to Telescopes & Stargazing Tuesday • May 15 • 6:30-8:30pm Downtown Library • 224 Church St.
Star Types & Light Pollution Tuesday • June 26 • 6:30-8:30pm Boulder Creek Library • 13390 West Park Ave.
Comets & Asteroids Tuesday • July 17 • 6:30-8:30pm Aptos Library • 7695 Soquel Dr.
In conjunction with the Reach for the Stars program series, we're launching a new service so you can check out a telescope with your library card! The telescopes will be subject to the same rules as most library materials, except they will not be renewable. To make it even more interesting, we're inviting the community participate in a telescope naming contest between May 16th and May 31st. Anyone may enter the contest by submitting up to 3 name suggestions either in person at any branch library or via Instagram, Facebook, or Twitter by tagging us @santacruzpl and using the hashtag #ReachfortheStars.
View similarly tagged posts: Services, Events, Teens, Technology, STEM/STEAM
Posted by cowend on May 11, 2018 at 12:30 a.m.

Permalink: https://www.santacruzpl.org/news/permalink/685/