SCPL News & Announcements
---

Exploring Virtual Reality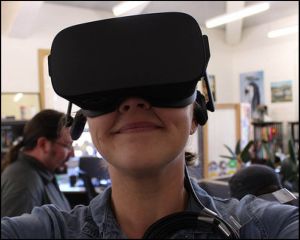 Are you curious about Virtual Reality but don't know where to start? Start at the library of course! Learn about the applications, benefits and concerns related to Virtual Reality technology and explore the HTC Vive VR system to experience it for yourself. Participants must be 13 years or older.
Monday • February 5th 3:30pm - 5:30pm Downtown Library • 224 Church St.
Thursday • February 15th 10:30am - 11:30am La Selva Beach Library • 316 Estrella Ave.
Stay tuned for more VR Pop-Ups at branches throughout the county.
View similarly tagged posts: Events, Teens, Technology, Discussions
Posted by cowend on Jan. 30, 2018 at 10:45 a.m.

Permalink: https://www.santacruzpl.org/news/permalink/642/