SCPL News & Announcements
---

Advance Healthcare Planning Series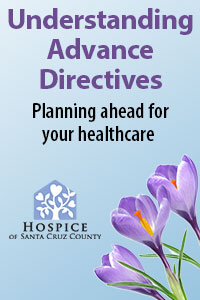 It Always Seems Too Early, Until It's Too Late
Planning ahead for your healthcare-now, while you are able to-is a gift you can give to yourself and those you love. With an Advance Directive, you have the power to make sure you get the medical care you want, even when doctors and family members are making the decisions for you. Advance healthcare planning also relieves your loved ones from the worry of guessing your end of life healthcare wishes.
Friendly folks from Hospice of Santa Cruz County can help you learn more.
Presentation: Understanding Advance Directives Learn how an Advance Directive can help make your wishes known and how to talk about advance healthcare planning with your loved ones. Friday • October 13 10:00am - 11:00am Aptos Library • 7695 Soquel Dr.
Advance Directive Individual Sessions Schedule a free 30 minute one-on-one appointment to complete your Advance Directive. Registration required. To register, call Vanessa Silverstein with Hospice of Santa Cruz County at 831-430-3047 or email her at vsilverstein@hospicesantacruz.org. Monday • October 16 10:00am - 1:00pm Aptos Library • 7695 Soquel Dr.
For more information about Hospice of Santa Cruz County, visit: hospicesantacruz.org.
View similarly tagged posts: Santa Cruz, Events, Health
Posted by cowend on Oct. 10, 2017 at 12:59 p.m.

Permalink: https://www.santacruzpl.org/news/permalink/611/