You Can Do That @ the Library?!
Enjoy a Preschool Storytime
Early literacy activities and fun for everyone from 3-6 years old is just a part of the activities at a Preschool Storytime.
---
See our Calendar, Online Catalog or Branch pages for more details and contact information.
SCPL News & Announcements -
September 2012 Archive
---

Are you ready for the 2012 general election? The last day to register to vote in this election is October 22nd.
We've put together a 2012 Voter Guide to help you get ready. The guide includes links for voter registration, how to find your polling place, sites to gather information on candidates and issues, suggestions for helpful library materials, and more. Your vote makes a difference -- get ready and get informed!
View similarly tagged posts: Website, Services
Posted by teeterj on Sept. 28, 2012 at 10 a.m.

Space Shuttle Endeavour Flies Overhead
It was an exciting morning at the Downtown branch! The Space Shuttle Endeavor flew over Santa Cruz this morning on its way from Edwards Air Force Base to its new home in Los Angeles.
To read about the flight and see more photographs, take a look at the Sentinel story.
Here are some photos that our staff captured from the roof of the library. If you have photos to share, you can send them to pix@mercurynews.com.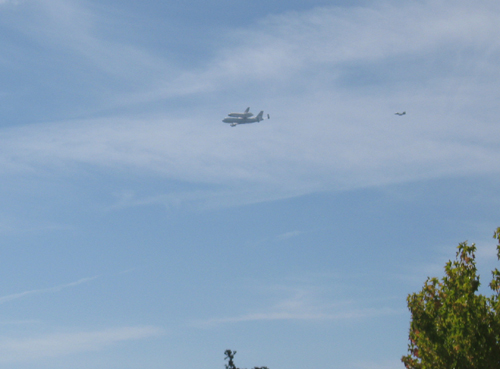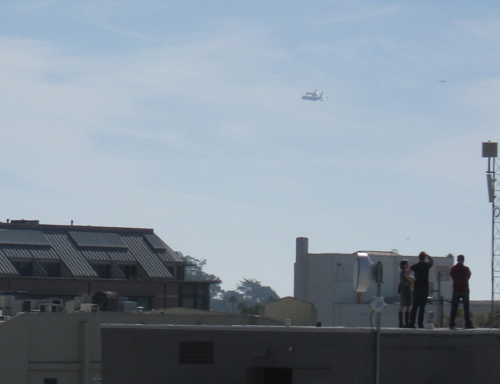 View similarly tagged posts: Local History, Santa Cruz
Posted by teeterj on Sept. 21, 2012 at 1:30 p.m.

Avast, ye hearties! Did you know September 19th is Talk Like A Pirate Day? If you're feeling the need to brush up on your pirate-speak, Mango Languages offers a course in Basic Pirate.
Mango Languages also offers lessons in more traditional languages. It's only one of the many great sites you can access through the Internet Resources section of our website. Browse around -- you never know what treasures you might find!
View similarly tagged posts: Website, Services
Posted by teeterj on Sept. 18, 2012 at 3:30 p.m.

New Storytime Schedule for Fall/Winter
Here is the new storytime schedule, starting September 10th and running through December 2012.
| | | | |
| --- | --- | --- | --- |
| Monday | 10:30am | Aptos | 427-7702 |
| Tuesday | 10:30am | Branciforte | 427-7704 |
| Wednesday | 10:30am | BoulderCreek | 427-7703 |
| Thursday | 10:30am | Scotts Valley | 427-7712 |
| Friday | 10:30am | Downtown | 427-7707 x5720 |
| Monday | 10:30am | Live Oak | 427-7711 |
| Tuesday | 10:30am | La Selva Beach | 427-7710 x6002 |
| Tuesday | 10:30am | Scotts Valley | 427-7712 |
| 1st & 3rd Thurs | 10:30am | Felton | 427-7708 |
| Thursday | 10:30am | Downtown | 427-7707 x5720 |
| Friday | 10:30am | Capitola | 427-7705 |
Remember, you can always look at the online calendar for the latest about what's going on at your local branch!
View similarly tagged posts: Kids, Services, Branches
Posted by teeterj on Sept. 13, 2012 at 1:30 p.m.

Update: Thank you for helping us learn about your interest in local music! The survey is now closed. Keep an eye out for some exciting future projects based on your feedback!
Santa Cruz County has a vibrant local music scene featuring many talented musicians and fine venues. Drawing the interest of locals and visitors alike, the Santa Cruz music scene is an integral part of the history, culture, and economy of our community. Therefore, the library is investigating ways to enhance access to local music in the present as well as document local music to preserve a historical record for the future.
Please take a few moments to complete this survey. It will help us understand your thoughts on local music and how you access music in your everyday life. It takes approximately 10 – 15minutes and is completely anonymous.
As a "thank you", you may opt to enter a drawing for $20 at Streetlight Records. If you opt to enter the drawing, you will be required to supply us with contact information. Your privacy and the confidentiality of the responses you provide to us are extremely important. Your survey results will remain anonymous, and your contact information will not be shared, sold, or spammed in any way. The only way we will use your information is to contact you in the event that you win!
View similarly tagged posts: Surveys
Posted by teeterj on Sept. 6, 2012 at noon