You Can Do That @ the Library?!
Renew Online
You can renew your Library materials online with your Library Card and PIN number.
Go to the My Account page and renew up to four times if no one else has requested the items.
---
See our Calendar, Online Catalog or Branch pages for more details and contact information.
SCPL News & Announcements -
May 2009 Archive
---

Effective June 15, 2009, the $2.50 Request Fee is Being Reinstated for Requests Not Picked Up
Effective June 15, 2009, the $2.50 request fee is being reinstated for requests not picked up.
The library holds requested items for ten days. The request fee only applies to the requests that are not picked-up or cancelled while being held for you.
The library has had to make cuts to its book and media budget, and this fee will help offset our falling revenues. It is also hoped this fee will encourage library users to monitor their accounts more closely and cancel requests they no longer want. This will reduce staff time in moving items around the system needlessly, and items will be available to those borrowers that want them.
This fee can be avoided by:
Making sure you have given the library your most current email address, phone number, and mailing address information and have selected the noticing option that works best for you.
Monitoring your request list online through

your library account

.
Checking for items currently being held by phone: 420-5775.
Calling the branch immediately to cancel requests that are no longer needed or you are unable to pick-up. Once an item is selected to be held for you it cannot be cancelled online.
Library staff at all branches will be glad to assist and explain how to use any of these options.
View similarly tagged posts: Library Administration, Circulation, Budget
Posted by strickere on May 30, 2009 at 10:33 a.m.

2009-2010 Library Budget Proposal: Lower Revenues--Reducing Library Service
TO: LIBRARY JOINT POWERS AUTHORITY BOARD
FR: ACTING DIRECTOR OF LIBRARIES
RE: FY 2009-2010 OPERATING BUDGET
Recommendation: That the Library Joint Powers Authority Board approve resolutions adopting a FY 2009-2010 operating budget based on the appropriations for supplies and services shown in Table 2, transferring trust and other funds for the 2009/10 budget; changing branch hours, and eliminating positions as outlined in either Scenario 6 or Scenario 7.
DISCUSSION
The 2009-2010 Budget is a budget of cuts. Cuts to supplies, cuts to services, cut to programs, cuts to the book and media budget, cuts to staff, cuts to branch hours.
The problem is not the current services offered; they are basic public library services. The problem is not too much staff for current service. The problem is not the community--the community uses their local libraries--all ages; and they have supported them; passing the temporary ¼ % sales tax for local libraries in 1996 when local property tax was not sufficient for the library service they deserved. Then in 2008, they voted to make the ¼ % sales tax permanent.
The problem is a budget that has no place to grow, while demand for service (and use of existing service) has been up all year, and this is coupled with a dramatic decline in sales tax; a smaller local decline in property tax, and now the very real threat that the state will take 8% of the library's remaining property tax.
Please use the link below to read the entire document.

2009-10 Library Budget Proposal: Lower Revenues
View similarly tagged posts: Library Administration, Budget
Posted by strickere on May 29, 2009 at 10:13 a.m.

SURVEY: How do your public library computers and Internet help YOU?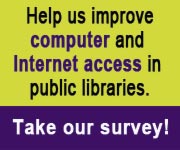 This survey closed on June 1, 2009
Take the national Web survey and help improve library services all over the country!
This library is participating in a nationwide study to find out how people use public library Internet and computing services and how to make these services better. The more information collected, the better the evidence! Please take a few minutes right now to help improve public library computing services across the United States. The survey is:
Easy
Quick--only 10-15 minutes to complete
Anonymous--no personally identifiable information is collected
Questions? Ask at your library information desk, or visit the project Web site:
http://impact.ischool.washington.edu/
View similarly tagged posts: Library Administration, Surveys
Posted by ann on May 18, 2009 at 12:37 p.m.

State Threatens to Take Local Property Taxes - Impact on Library Services Would be Severe
The State, concerned about the possibility that the May 19th ballot initiatives may not be successful, is now considering the option of borrowing 8% of local property tax money. Since property taxes comprise a significant portion of SCPL's budget, and a loss of additional revenue would exacerbate our already challenging budget crisis, the library could potentially lose as much as $578,000 in FY 2009-10.
YOU CAN HELP! The Friends of SCPL have initiated a postcard campaign to tell our local legislators that borrowing property tax revenues would devastate library services. Postcards are pre-addressed to our legislators and are available at all branches.
View similarly tagged posts: Library Administration, Budget
Posted by strickere on May 12, 2009 at 6:34 p.m.

Welcome to SCPL's New Website!
Looking for the familiar old homepage?
Don't worry — you're in the right spot. We've completely redesigned our entire site. The different "look" may be the first thing you notice, but we've also added many new features (like this Library News blog) and improved the overall site navigation.
So take a few minutes to:
View similarly tagged posts: Website
Posted by ann on May 2, 2009 at 8:40 p.m.