Endangered Species in Santa Cruz County
-
Plants
---
White-Rayed Pentachaeta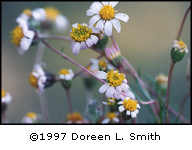 Scientific Name: Pentachaeta bellidiflora
Status: E
The White-rayed Pentachaeta (also known as the White-rayed Pygmy Daisy) is an annual herb in the aster family, native to California, and endemic (limited) to California alone. Very low population - currently existing at a single site, bisected by an interstate highway, in San Mateo County.
Habitat: Bunchgrass communities associated with serpentine soils.
Threats: Urbanization / construction, off-road vehicles, competition from non-native plant species when soils are disturbed, and possibly also vandalism.
To Learn More:
Last updated by phippsa on Oct. 3, 2017
Browse by Status Key
E — Endangered
T — Threatened
CH — Critical Habitat
PE — Taxa proposed for listing as endangered
PT — Taxa proposed for listing as threatened
PCH — Critical habitat which has been proposed
C — Candidate species for which the Fish and Wildlife Service has on file sufficient information on the biological vulnerability and threats to support proposals to list as endangered or threatened
D — Delisted due to Recovery