Endangered Species in Santa Cruz County
-
Plants
---
Scotts Valley Polygonum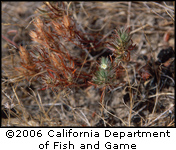 Scientific Name: Polygonum hickmanii
Status: E
The Scotts Valley Polygonum (also known as Hickman's Knotweed) is a small, erect, taprooted annual in the buckwheat family. It grows from 2 to 5 cm. (1 to 2 in.) tall, and can be either single-stemmed or profusely branching near the base. The single white flowers are found in the axils of the bracteal leaves.
Habitat: Occurs with other small annual herbs in patches within annual grasslands. These "wildflower field" patches are generally underlain by shallow, well-drained soils; this species occurs on gently sloping to nearly level shallow soils over outcrops of Santa Cruz mudstone and Purisima sandstone. It is found near the center of the patches where the soil is shallowest and often has a consolidated, crusty surface texture; other species are sparse in patch centers. Only four colonies are known from two sites about one mile apart at the northern end of Scotts Valley, CA: its occupied habitat comprises less than one acre total.
Threats: Alteration of habitat by urban development, displacement by nonnative grasses, and the increased chance of extinction due to the small numbers of individuals and limited amount of habitat.
To Learn More:
Last updated by phippsa on Oct. 3, 2017
Browse by Status Key
E — Endangered
T — Threatened
CH — Critical Habitat
PE — Taxa proposed for listing as endangered
PT — Taxa proposed for listing as threatened
PCH — Critical habitat which has been proposed
C — Candidate species for which the Fish and Wildlife Service has on file sufficient information on the biological vulnerability and threats to support proposals to list as endangered or threatened
D — Delisted due to Recovery