You Can Do That @ the Library?!
Listen to a Book
Going on a long driving trip? Have to commute over Highway 17 every day? Borrow an audiobook to make the journey more enjoyable. We have books for children, young adults and adults in downloadable eAudio, CD, MP3, playaways, and special Read-along-kits for children.
---
See our Calendar, Online Catalog or Branch pages for more details and contact information.
SCPL News & Announcements -
Latest Posts
---

SURVEY: How do your public library computers and Internet help YOU?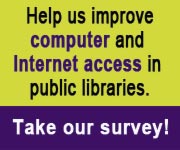 This survey closed on June 1, 2009
Take the national Web survey and help improve library services all over the country!
This library is participating in a nationwide study to find out how people use public library Internet and computing services and how to make these services better. The more information collected, the better the evidence! Please take a few minutes right now to help improve public library computing services across the United States. The survey is:
Easy
Quick--only 10-15 minutes to complete
Anonymous--no personally identifiable information is collected
Questions? Ask at your library information desk, or visit the project Web site:
http://impact.ischool.washington.edu/
View similarly tagged posts: Library Administration, Surveys
Posted by ann on May 18, 2009 at 12:37 p.m.

Permalink: http://www.santacruzpl.org/news/permalink/8/